The Parkgate Society Youth Services Team strives to create and empower positive change amongst youth between the ages of 10 to 24 living in the Deep Cove/East Seymour area. We endeavour to strengthen the community, advocate for the rights of youth, and promote growth and change by providing opportunities, knowledge and resources to youth. We listen to their needs and include youth in determining what programs we deliver. Our current service delivery includes: 1 to 1 support, group programs, camps, and special events/outings. We work closely with other professional agencies including School District 44 and Vancouver Coastal Health to provide the most comprehensive level of support for youth in our community so they can
live life better
.
Pre-Teen Drop in – Gr 6-7
Teen Drop in – Gr 8-12
*School year hours (Subject to change for special events)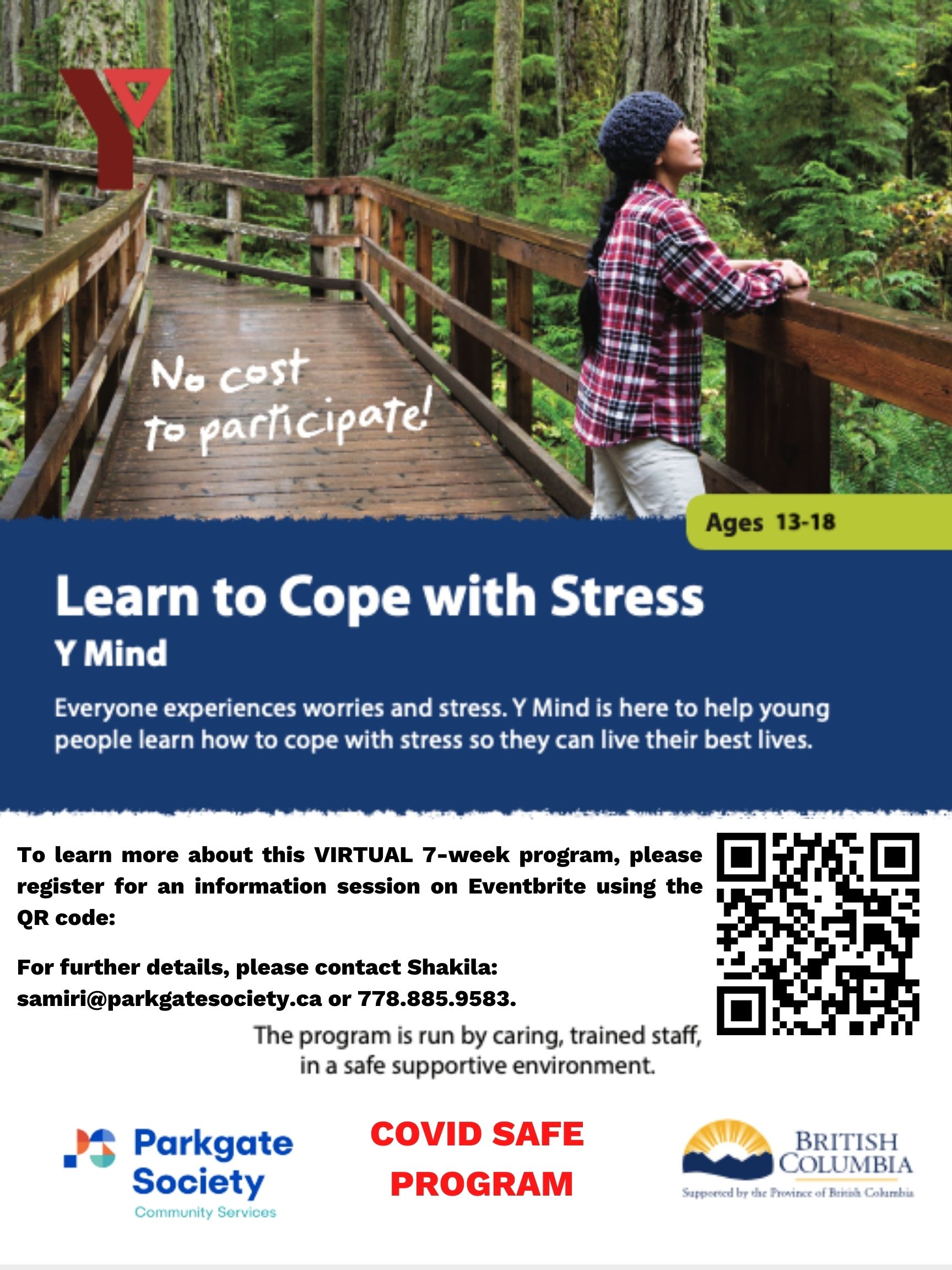 Parkgate Society's Youth Outreach Workers, Graham and Shakila, will be facilitating another round of a fantastic 7-week virtual group called Y-Minds!
This program will be online using Zoom
7 weekly sessions (Wednesdays, Apr 14th – May 29th)
4:00pm – 5:30pm.
No cost to participate.
Y-Minds is a prevention education group in which teens aged 13-18 can learn how to manage stress and anxiety in a safe and supportive environment. The group will have fun and engaging conversations, and mindfulness exercises in which they will have the opportunity to learn ways to cope with their peers. Y-Minds acknowledges that youth are the age group to experience anxiety the most, and provides useful tools for youth to handle difficult emotions. This program is beneficial for any youth that experiences mild to moderate levels of anxiety and is looking for ways to cope! We will be hosting a mandatory virtual information session for anyone who wants to know a little more about the program before joining. Participants interested in learning more may scan the QR code in the poster to register on Eventbrite or follow this link:
https://www.eventbrite.ca/e/y-minds-teen-mental-wellness-program-info-session-tickets-140014032741?ref=eios
 For further information or questions, please contact Shakila at samiri [at] parkgatesociety [dot] ca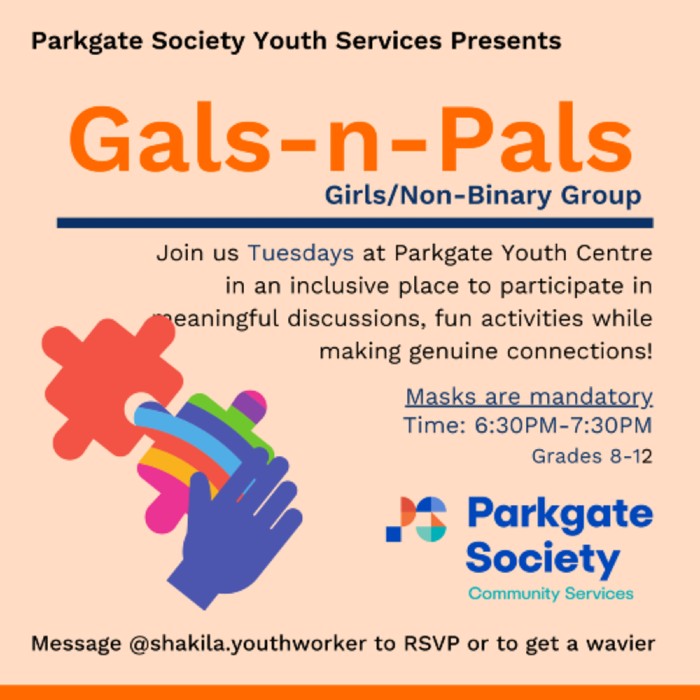 Youth Services Team
Our Youth Services team is made up of our Youth Services Manager, three Youth Outreach Workers, a Youth Centre Coordinator, and a larger team of Youth Services Leaders and Volunteers. 
Youth Services Supervisor: Dale Cheyne
Cell: 604.783.8053
dcheyne [at] parkgatesociety [dot] ca
Facebook youthworker.dale
Instagram youthworker
Youth Centre Coordinator: Natasha
Cell: 604.783.5754
nmorton [at] parkgatesociety [dot] ca
Instagram parkgate.youth.centre
Youth Outreach Worker: Shakila
Cell: 778.885.9583
SAmiri [at] parkgatesociety [dot] ca
Instagram shakila.youthworker
Youth Outreach Worker: Graham
Cell: 778.882.2566
graham.baigent.parkgate@gmail.com
Instagram graham.youthworker3
Plus in-kind donations from: