Camp Extreme: Summer 2022
This Co-ed camp is intended for youth and focuses on getting outside! Exploring what Deep Cove has to offer, the activities selected are fun yet challenging enough to encourage reflection and team building. The various weeks are targeted for different age groups. When registering, please go by the grade the participant will be entering in fall 2022.
Activities include kayaking, paddleboarding, and local hikes. This camp is led by the Parkgate Youth Services team and we WILL NOT be transporting participants, so each day will involve some walking.
For more information contact the Parkgate Society Youth Services Manager, Dale Cheyne 604-783-8053.
| | | |
| --- | --- | --- |
| Week 1 July 11-July 15: | Gr 5-7 | Event ID: 151871 |
| Week 2 July 25-July 29: | Gr 6-8 | Event ID: 151872 |
| Week 3 Aug 8-Aug 12: | Gr 5-7 | Event ID: 151873 |
| Week 4 Aug 22-Aug 26: | Gr 6-8 | Event ID: 151874 |
Cost: $325
Time: 9 am – 3 pm
Registration opens on May 18th at 7 am.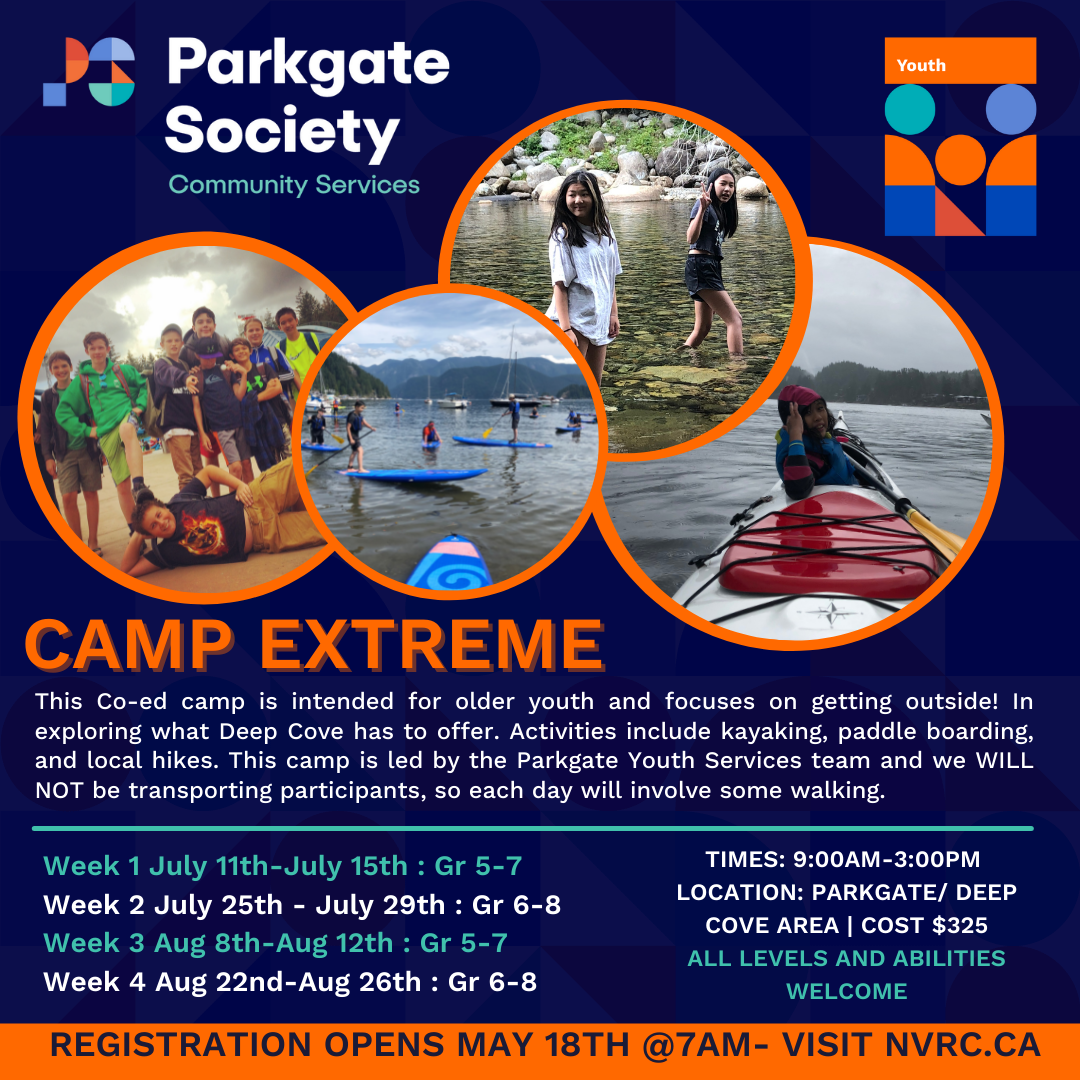 Volunteer with us
Are you looking for a way to connect with our community? We are looking for volunteers of all ages who want to share their passion and skills with us and help to make our community a special place.
Contact our Volunteer Coordinator to learn more.
Support Parkgate Society
Parkgate Society relies on donations of any amount from community members just like you.
Your support helps ensure Parkgate Society continues to provide community services to our friends and neighbours on the North Shore.