Camp Extreme: DnD Edition
Dates March 15 – 19, 2021
Times: 9:00am – 3:00pm
Cost: $275
Location: Parkgate Community Centre / Deep Cove area
Capacity: 8 youth
All levels and abilities welcome
This co-ed camp is for youth in grade 6 to grade 8. The five days are focussed on building social opportunities through a week-long campaign of Dungeons & Dragons, while also building some outdoor adventures through hiking, extreme outdoor activities, and our final day – tubing at Mount Seymour!
Registration Date: February 2nd at 9am at: NVRC.      
Event ID: 00075660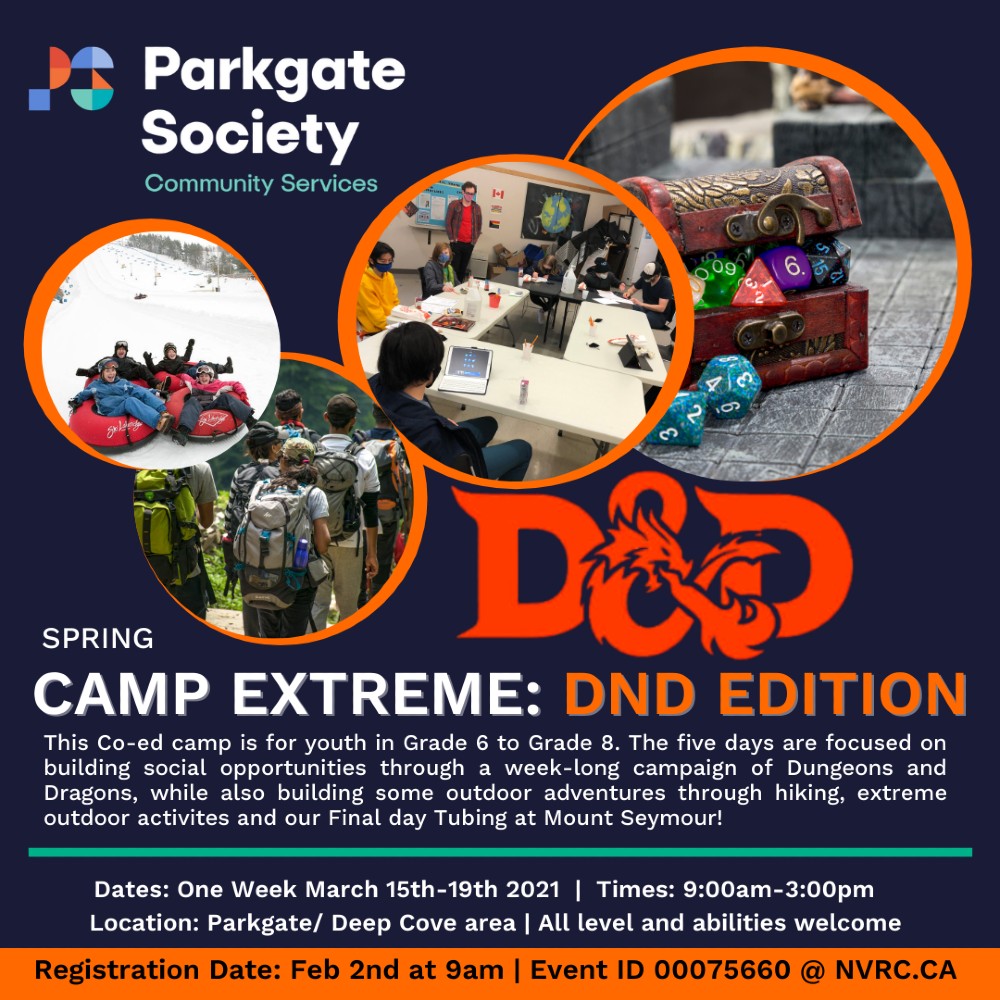 Details:
The cost of camp also includes lunches and snacks (no lunch provided on Friday). All activities will follow COVID-19 regulations as outlined by Provincial Health Authority and will be led by the Parkgate Youth Services team. All levels and abilities welcome. 
Registration Notes: 
Prior to Camp start date, all youth will receive a Camp Extreme DnD questionnaire to be submitted before the camp start day. Along with the questionnaire a waivers and emergency contact sheet will be included and to be completed before attending first camp day which will include COVID-19 related questions. This waiver will be available online or by emailing dcheyne [at] parkgatesociety [dot] ca. Registered participants will need to complete a daily COVID-19 related questionnaire. For more info on the camp, contact Dale Cheyne at 604-983-6379 or dcheyne [at] parkgatesociety [dot] ca
Surf Camp in Tofino 13-18yrs
Girls Surf Camp Dates TBA
Boys Surf Camp Dates TBA
An outdoor adventure including camping, surfing, skimboarding, hiking and excursions around Tofino. Youth learn important life skills, make friends, and engage in discussions around healthy relationships, boundaries, self-esteem, conflict resolution, and more.
Volunteer with us
Are you looking for a way to connect with our community? We are looking for volunteers of all ages who want to share their passion and skills with us and help to make our community a special place.
Contact our Volunteer Coordinator to learn more.
Support Parkgate Society
Parkgate Society relies on donations of any amount from community members just like you.
Your support helps ensure Parkgate Society continues to provide community services to our friends and neighbours on the North Shore.