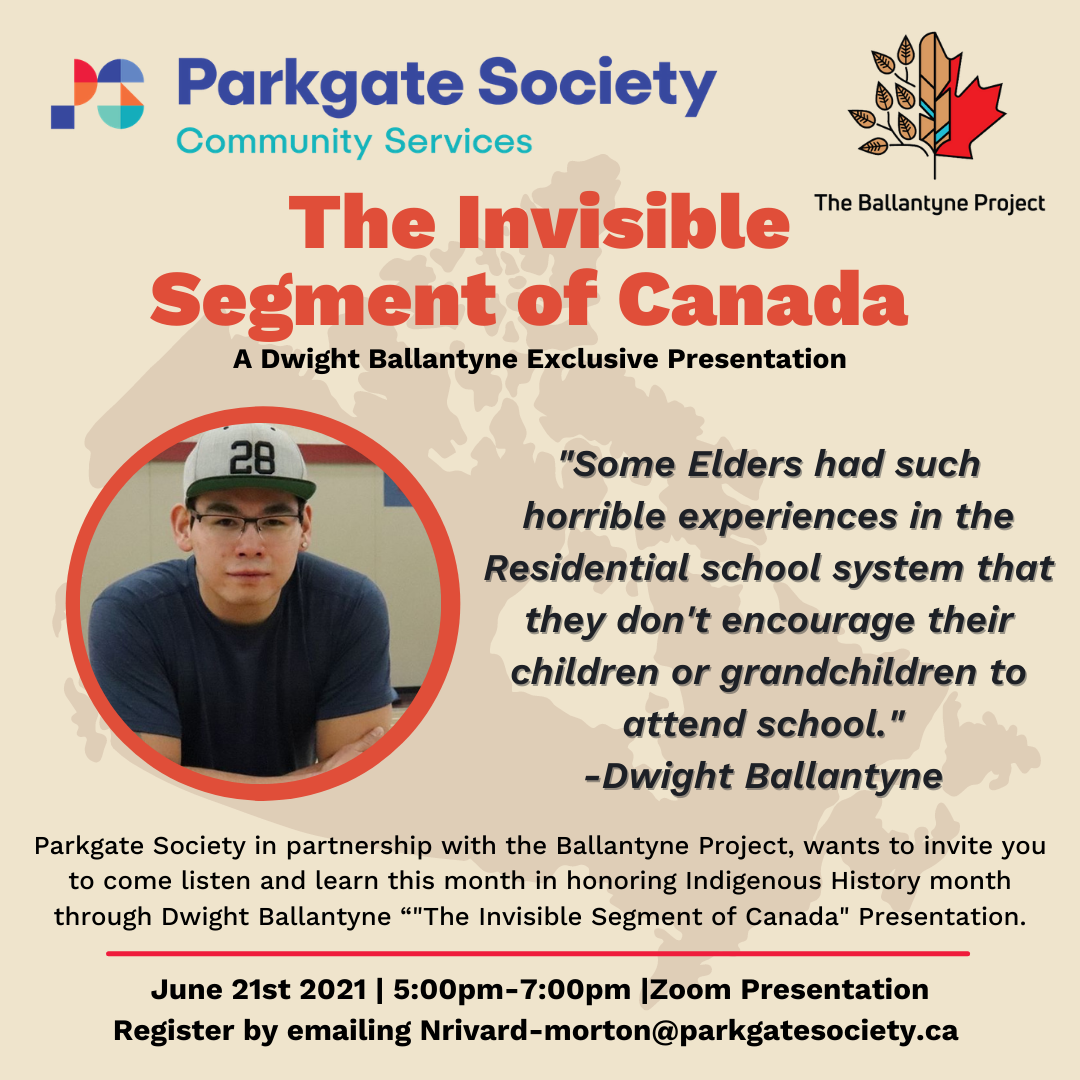 Monday, June 21st:
National Indigenous Peoples' Day

In honour of Indigenous History month, Parkgate Society in partnership with the Ballantyne Project wants to invite you to Dwight Ballantyne's "The Invisible Segment of Canada" Presentation: a chance to listen and learn.
June 21st from 5 – 7 pm
To register & receive the Zoom link, please email Natasha: NRivard-Morton [at] parkgatesociety [dot] ca
In Dwight's presentation, "The Invisible Segment of Canada", he helps to unravel the myths and truths about his growing up in a remote First Nation. Life is not always what it seems or what we hear through mainstream media. This is your opportunity to learn about a segment of the Canadian population that rarely makes it into textbooks, popular media, or social conversation.
This is a great way for individuals to support Indigenous Voices and take steps towards joining conversations that need to happen for real change to happen.
Please note: In this video Dwight shares real and raw stories about his youth which include images and descriptions of alcohol & drug abuse as well as a mention of suicide. It is for this reason, we recommend the video be watched by people 13 years of age and older.
A few comments from participants in past presentations:
"Thank you so much Dwight for sharing your story. It is enlightening and impactful."
"This was SO insightful! I appreciated Dwight's frankness and the simplicity/depth of his presentation."
"Dwight was engaging, spoke from the heart, and connected with the participants. This was an important and wonderful session."
"I had never thought about how hard it would be for folks to leave the reserve, thank you for letting me try and walk a few steps in your shoes."